Taylor Swift and Joe Alwyn have ended their six-year-long relationship, according to a source close to the couple. The two have been notoriously private about their romance, and engagement rumors have surrounded them for years. Despite the secrecy, Swift often credited Alwyn with being a significant source of support in her life. The pair began dating in 2016 and collaborated on music together over the pandemic, with Alwyn writing several songs under the pseudonym William Bowery. Swift even gave her partner a shout-out during her acceptance speech for Folklore's Album of the Year Grammy in 2021.
Swift and Alwyn's relationship reportedly matured over the years, with a source telling PEOPLE that Alwyn was "her rock" and that their relationship was "mature and wonderful." They were often photographed holding hands during rare public outings, including a party after the Oscars in 2021, where Swift wore a sparkly Ralph & Russo dress.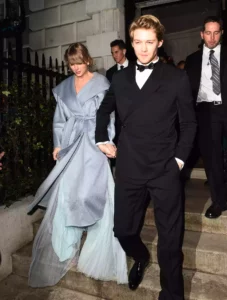 Despite Alwyn's refusal to speak publicly about their relationship, many of Swift's love songs from her 2017 album "Reputation" were thought to be inspired by the actor and their relationship. Swift has said that the two share a love for sad songs and have bonded over music.
Alwyn, for his part, has been more forthcoming about their relationship's privacy, stating in interviews that he didn't feel it was something he wanted to offer up to the public. He has said that he prefers to talk about work and that he understands people's curiosity about celebrities' private lives.
The news of the couple's split comes as Swift is traveling the country for her sold-out Eras tour, which Alwyn has not been seen at. The two had been deflecting engagement rumors for years, with Alwyn previously stating that he wouldn't confirm or deny the rumors either way.
Swift and Alwyn collaborated on two sister albums, "Folklore" and "Evermore," during the pandemic, with Alwyn credited as a co-writer on several songs. "Folklore" won the 2021 Grammy for Album of the Year, while Evermore was nominated for the same award in 2022.
Fans of the couple expressed their sadness over the news on social media, with many wishing both of them well. Despite their split, both Swift and Alwyn are sure to continue making music and acting, respectively, as they move forward with their careers.