With designers regaining their mojo, providing new twists on vintage icons, and turning the fashion show premise on its head, Milan proved its not-to-be-missed position.
Bottega Veneta
Matthieu Blazy's third presentation in his homage to Italy included a procession of characters, establishing the designer as fashion's current dramatist. The collection ranged from delicate PJ shapes made of paper-thin Nappa leather to sculptural knitwear made of shaggy fil coupe jacquards and worn with Murano glass-handled purses. "I loved the idea of the parade in Italy," said Blazy, imagining "a crowd of people from anywhere and everywhere, and yet somehow, they all fit and go in the same direction."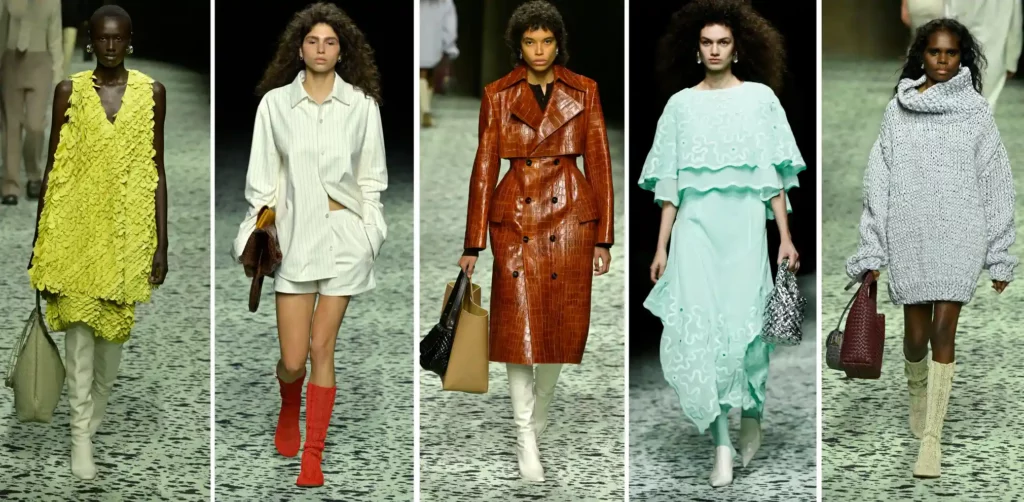 Fendi
Kim Jones has made mining Fendi's archive a vital part of his approach during his two years there – but not for much longer. With a retrospective of the late Karl Lagerfeld's life and work coming up, Jones stated backstage that it was time to look forward. His inspiration? Delfina Delettrez Fendi is the granddaughter of Adele and Edoardo Fendi – whom Jones described as "a sophisticated working mother who enjoys having fun, too". The collection celebrated practical tailoring with couture sequins, sculptural leather, and luscious ribbed knitwear. The latter included a road stripe originally seen in a 1996 collection.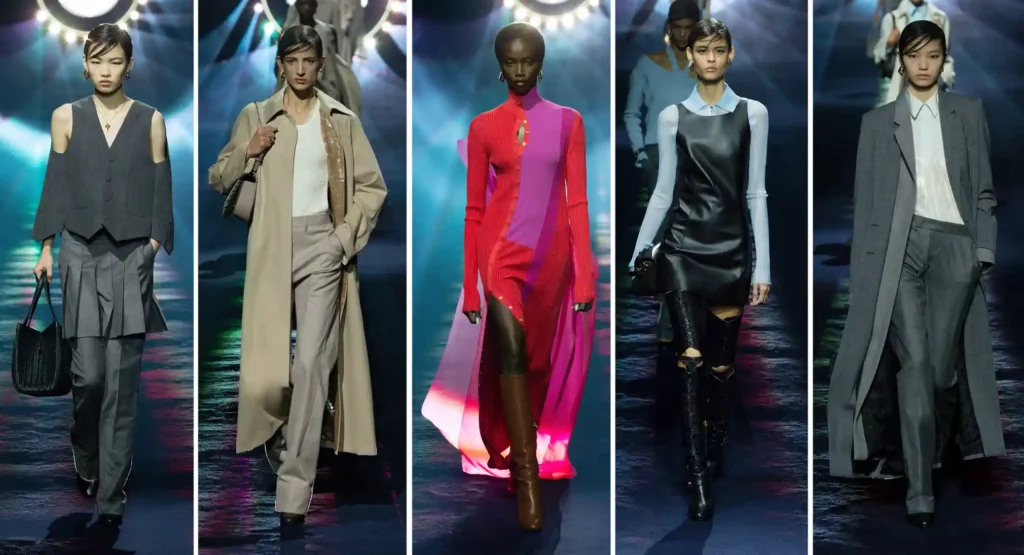 Prada
Miuccia Prada and Raf Simons created a collection that glorified the modest uniforms of nurses, the military, and formal events (hello, Prada's version of the wedding dress). As a reaction to the notion that only glamour matters in fashion ("I hate it," remarked Prada), the designers attempted to highlight realism with bomber jackets, duffel coats and capes, close-cut pencil dresses, and appliquéd A-line skirts. "Everyday life deserves beautiful things," Prada continued. "Because every day of life counts".
Tomo Koizumi Supported By Dolce & Gabbana
Dolce & Gabbana helped Tomo Koizumi stage his debut European show. Having access to the Italian house's past, the Japanese designer reimagined its silk corsets with rainbow ribbons, incorporated multicolored heads into its ruched body-con jersey, and knotted tulle bows into its lace-covered shoes. Working with the house provided him with the funds to experiment with silk organza, which he smocked into XXL dresses with extra-long trains in traditional kimono colors.
No21
Alessandro Dell'Acqua's moreish homage to the femme fatale 2.0 continues. Tapestry jacquards were used to give wiggle shapes and bias-cut slip dresses (with straps and sleeves slipping seductively down the shoulder) an artisanal edge. A late 1960s silhouette – think Mia Farrow in Rosemary's Baby – was welcomed with a sultry-cum-haphazard secretarial vibe. The tone of this collection was defined by wool-tweed skirt suits, embroidered pencil skirts, and close-fit knits fastened with scorpion brooches.