While navigating the intricate journey of producing his third opus, House on a Hill, Eric Nam faced more than a few creative dilemmas. The restrictive nature of the pandemic hampered his inspirational experiences, and the immediate transition to touring only added to the challenge. However, an unanticipated day of house hunting surprisingly became the catalyst for a new lyrical narrative.
"I stumbled upon a picturesque house perched atop a hill. While it didn't become mine, it sparked a rich conversation during our songwriting session. We explored the deep-rooted human yearning to own a home. Is it about wealth accumulation, societal status, or perhaps finding a tangible anchor for one's identity?" Nam mused, touching on themes that echo the sentiments of many in today's real estate-driven culture.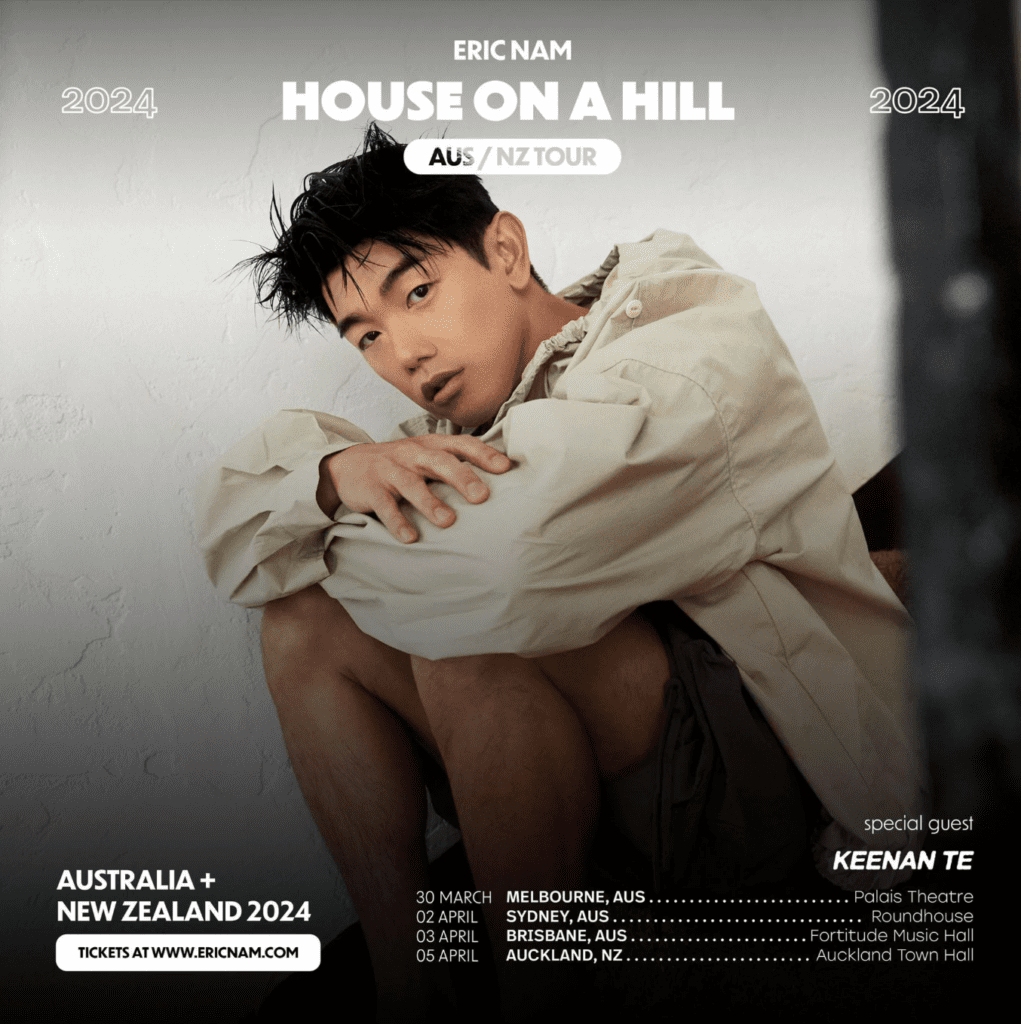 House on a Hill showcases Nam at his creative pinnacle. His involvement spans not only the songwriting and music production but also the meticulous creation of the album's music videos, which collectively narrate a captivating short film. "With every project, there's an innate drive to outdo the previous one. This album posed the challenge of not just elevating the music but the entire visual and thematic storytelling," he noted.
Interestingly, Nam's grounding in the vibrant world of K-pop, known for its extravagant and often surreal music videos, presented a paradox. "While K-pop revels in high-octane CGI and fantastical themes, my journey as a solo and independent artist means thinking differently.
The goal was to harness every creative aspect I possess. So, why not script several music videos that culminate in a short film? A film that resonates with House on a Hill's themes of joy, solitude, contentment, and the myriad of emotions we navigate," Nam added.
Released on Sept. 8, House on a Hill made its mark, debuting at No. 66 on Billboard's Top Album Sales chart. As Nam tours, promoting the album across the Americas and later Europe and parts of Asia in 2024, one can't help but admire the artistry birthed from life's simplest experiences.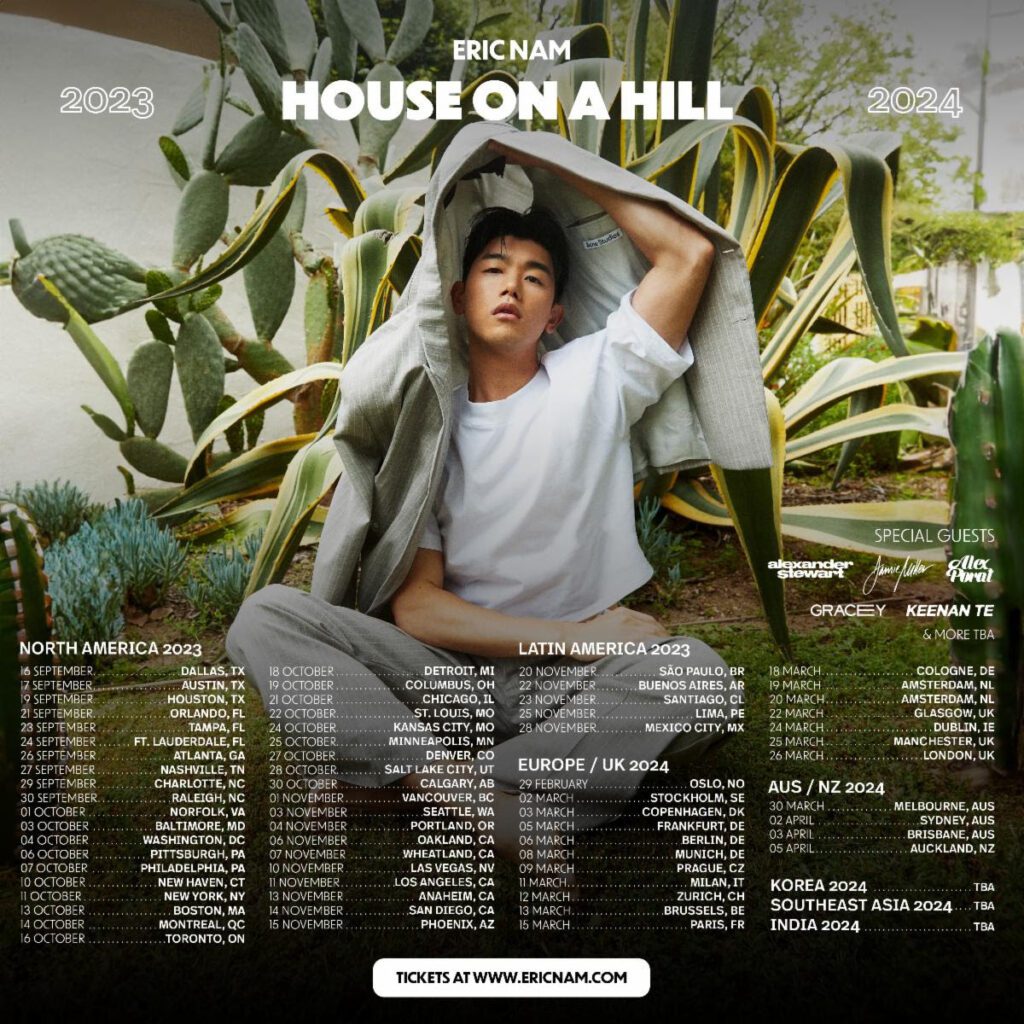 HOUSE ON A HILL WORLD TOUR DATES:
North America
09.16.23 – Dallas, TX – House of Blues
09.17.23 – Austin, TX – Stubb's Waller Creek Amphitheater
09.19.23 – Houston, TX – Bayou Music Center
09.21.23 – Orlando, FL – House of Blues
09.23.23 – Tampa, FL – The Ritz Ybor
09.24.23 – Ft. Lauderdale, FL – Revolution (Outdoors)
09.26.23 – Atlanta, GA – Coca-Cola Roxy
09.27.23 – Nashville, TN – Marathon Music Works
09.29.23 – Charlotte, NC – The Fillmore
09.30.23 – Raleigh, NC – The Ritz
10.01.23 – Norfolk, VA – The NorVa
10.03.23 – Baltimore, MD – Ram's Head Live
10.04.23 – Washington, DC – Echostage
10.06.23 – Pittsburgh, PA – Roxian Theatre
10.07.23 – Philadelphia, PA – The Fillmore
10.10.23 – New Haven, CT – College Street Music Hall
10.11.23 – New York, NY – Rooftop at Pier 17
10.13.23 – Boston, MA – Roadrunner
10.14.23 – Montreal, QC – MTELUS
10.16.23 – Toronto, ON – Rebel
10.18.23 – Detroit, MI – The Fillmore
10.19.23 – Columbus, OH – Kemba Live
10.21.23 – Chicago, IL – Riviera Theatre
10.22.23 – St. Louis, MO – The Pageant
10.24.23 – Kansas City, MO – The Midland Theatre
10.25.23 – Minneapolis, MN – The Fillmore
10.27.23 – Denver, CO – The Ogden
10.28.23 – Salt Lake City, UT – Union Event Center
10.30.23 – Calgary, AB – MacEwan Hall
11.01.23 – Vancouver, BC – PNE Forum
11.03.23 – Seattle, WA – Showbox SoDo
11.04.23 – Portland, OR – Roseland Theater
11.06.23 – Oakland, CA – Fox Theater
11.07.23 – Wheatland, CA – Hard Rock Live
11.10.23 – Las Vegas, NV – Brooklyn Bowl
11.11.23 – Los Angeles, CA – Shrine Auditorium & Expo Hall
11.13.23 – Anaheim, CA – House of Blues
11.14.23 – San Diego, CA – SOMA
11.15.23 – Phoenix, AZ – Van Buren
Latin America
11.20.23 – Sao Paolo, Brazil – Cine Joia
11.22.23 – Buenos Aires, Argentina – Niceto Club
11.23.23 – Santiago, Chile – Teatro Cariola
11.25.23 – Lima, Peru – Scencia
11.28.23 – Mexico City, MX – Foro Puebla
UK & Europe
02.29.24 – Oslo, Norway – Sentrum Scene
03.02.24 – Stockholm, Sweden – Annexet
03.03.24 – Copenhagen, Denmark – Vega
03.05.24 – Frankfurt, Germany – Zoom
03.06.24 – Berlin, Germany – Columbiahalle
03.08.24 – Munich, Germany – Tonhalle
03.09.24 – Prague, Czech Republic – Sasazu
03.11.24 – Milan, Italy – Fabrique
03.12.24 – Zurich, Switzerland – Halle 622
03.13.24 – Brussels, Belgium – Ancienne Belgique
03.15.24 – Paris, France – Bataclan
03.18.24 – Cologne, Germany – Palladium
03.19.24 – Amsterdam, Netherlands – Melkweg
03.20.24 – Amsterdam, Netherlands – Melkweg
03.22.24 – Glasgow, UK – O2 Academy
03.24.24 – Dublin, Ireland – Olympia
03.25.24 – Manchester, UK – Academy
03.26.24 – London, UK – Eventim Apollo
Australia & New Zealand
3.30.24 – Melbourne, Australia – Palais Theatre
4.2.24 – Sydney, Australia – Roundhouse
4.3.24 – Brisbane, Australia – Fortitude Music Hall
4.5.24 – Auckland, New Zealand – Auckland Town Hall
Connect with Eric Nam:
Facebook // Instagram // Twitter // TikTok