Meghan Markle honored at Women of Vision Awards for Advocacy and Empowerment
Meghan Markle, the Duchess of Sussex, graced the stage at the Ms. Foundation 2023 Women of Vision Awards in New York City on Tuesday evening. Accompanied by her husband, Prince Harry, and her mother, Doria Ragland, Meghan was recognized as one of this year's Woman of Vision Award recipients for her remarkable efforts in empowering women and girls worldwide.
A special moment unfolded as Meghan was presented with the award by her dear friend, Gloria Steinem, the Co-Founding Mother of the Ms. Foundation. Expressing her gratitude, Meghan thanked Steinem for being an inspiration, a mentor, and a friend, while commending her for the remarkable combination of wisdom, humor, and cheekiness she possesses.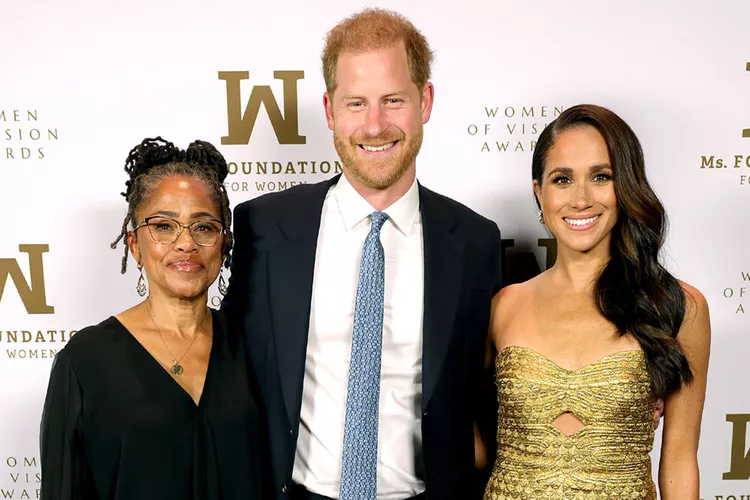 During her acceptance speech, Meghan reminisced about her childhood and the impact of Ms. magazine on her young mind. She vividly recalled her evenings at home, sitting with her TV tray, watching Jeopardy!, and noticing the magazines on the coffee table bearing the name "Ms." She noted the diversity showcased within the pages, both in terms of color and age, and the inclusion of notable women in various fields, from congresswomen to astronauts. The topics covered in the magazine resonated with her, ranging from motherhood and working mothers to profound issues like domestic violence, poverty, and equity.
Although she was too young to fully grasp the meaning behind the articles, Meghan emphasized the significance of having those magazines in her home. Her mother's subscription to Ms. sent a powerful message that there was more to life than superficiality, that substance truly mattered. Those imprints left a lasting impact on her, ultimately shaping her into the feminist and activist she is today.
Meghan's bond with Steinem extends beyond this awards ceremony. In 2020, the two influential women engaged in a thought-provoking "backyard chat" about the importance of voting. Later that year, Meghan joined Steinem at her farmhouse, where they made cold calls to voters together, seated at the dining room table. Their shared commitment to social progress and equality has solidified their friendship and collaborative efforts.
Meghan's speech – recounting seeing Ms. Magazine pic.twitter.com/p0AMWYv132

— Steph Petit (@stephpetit_) May 17, 2023
It is worth noting that Meghan and Steinem were spotted last year leaving a lunch date in New York City. This occasion coincided with Prince Harry's address at the United Nations in honor of Nelson Mandela Day, where Meghan accompanied him. Their public appearances together have further amplified their shared message of empowering women and effecting positive change in society.
Meghan Markle's recognition at the Women of Vision Awards is a testament to her unwavering dedication to gender equality and her tireless efforts to uplift women and girls globally. Through her advocacy work, she continues to inspire others to create a more inclusive and equitable world.