After being friends for years, Shawn Mendes and Camila Cabello officially started their romance in July 2019
It's official- after dating for more than two years, Shawn Mendes and Camila Cabello have called it quits. The "Señorita" singers each issued a statement on their instagram stories on Wednesday, November 17.
Mendes, 23, and Cabello, 24, announced their split on Instagram Wednesday night with a joint statement.
"Hey guys, we've decided to end our romantic relationship but our love for one another as humans is stronger than ever ❤️" the statement, which they both shared on their Instagram Story, said. "We started our relationship as best friends and will continue to be best friends."
"We so appreciate your support from the beginning and moving forward ❤️❤️❤️ Camila and Shawn," the statement concluded.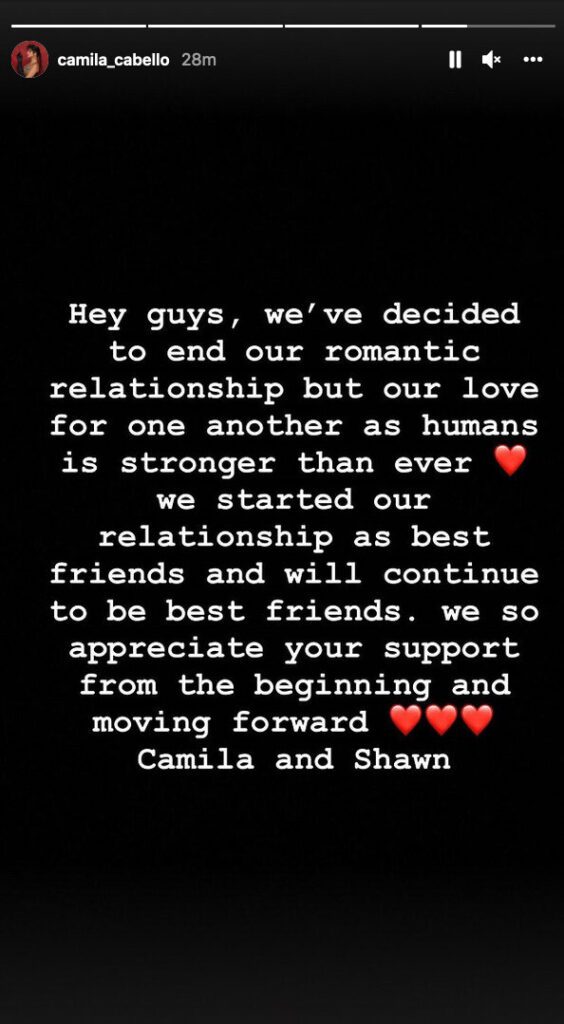 On November 30, Shawn took to Instagram to announce he has new music coming on December 1. The song is likely titled "It'll Be Okay," and in its lyrics, he begs the question: "Are we gonna make it? Is this gonna hurt?" This marks the first song Shawn has released since the breakup, and while the specific reasons are still unknown, "It'll Be Okay" may provide more insight into what happened with their romance.