NY's rising Hip Hop artist, Don Modus, discusses his latest release "Couldn't Be Me," the follow-up to "Big Time" and "East 2 West." He reveals that the message behind the track is to have big ambitions, aspiring to be the best version of oneself. The rapper also confesses to having a penchant for the finer things, expressing a preference for working hard to afford a luxurious lifestyle rather than playing it safe and missing out on the joys of life.
Modus also stresses the crucial role of possessing a winning mentality and the courage to take risks in the music industry. According to the rapper, artists must have an unshakable belief in themselves that transcends anyone else's, as the journey can be rife with unexpected turns. "Believe in yourself and know you're a winner," advises Don.
Read the full interview below.
Can you share with us the meaning and concept behind "Couldn't Be Me"? What message do you want your listeners to take away from the song?
I want my listeners to have big ambitions, and aspire to be the best version of themselves that they can be. The hook is really just affirmations. Telling ourselves to "move like a boss" and aim for finer things in life.
Previous singles, such as "Big Time" and "East 2 West," have been very successful. How does "Couldn't Be Me" fit into your overall musical style and progression? Is there an upcoming album you're working on? If yes, will the recent releases be included in it?
Yes, I definitely want to give a shout out to all my fans that have been streaming the last couple releases. "Couldn't be me" shows my listeners that I have more versatility to my flow. I've got a ton of music stored in the vault. I'm working on a few small projects, but it's all up to my management team, you know how it goes.
"Couldn't Be Me" showcases a luxurious lifestyle with champagne, fancy cars, and expensive watches. How much of this reflects your personal life, and how much is an artistic expression?
I'm a bougie guy. Even before I was a rapper, I was always splurging on extra stuff. I'd rather work harder to afford nicer experiences rather than work less and budget more. The champagne part was definitely artistic expression though I'm more of a Dussé kind of guy.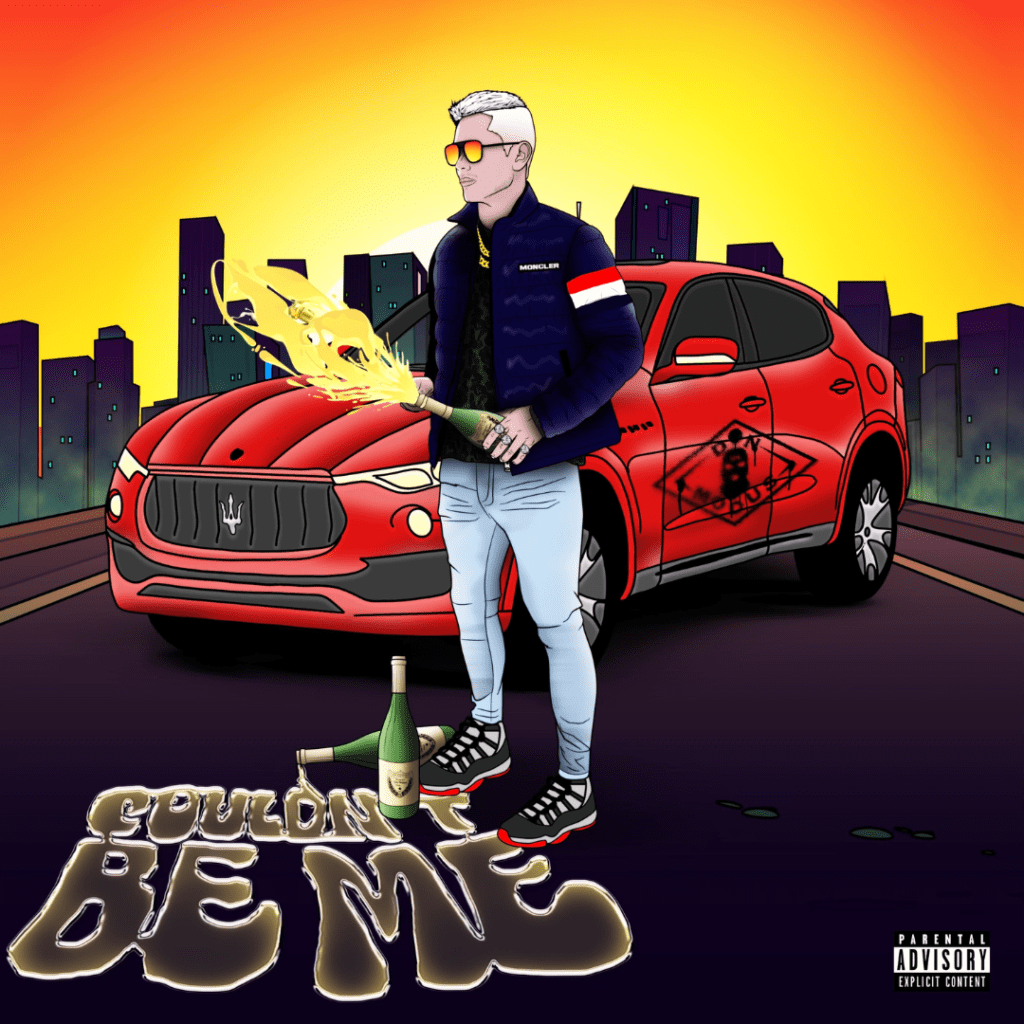 Your music videos always have unique and captivating themes. Could you tell us about the creative process behind them? Do you have a dedicated team for this or do you come up with ideas on your own?
Thank you. I appreciate you shining a light on them. I'd say I generate about 90% of the ideas and locations on my own. Then when we're on set I like to bounce ideas off whoever my camera man is. I personally love it when the people around me bring creative ideas up but for the most part we need to come up with our visions.
In the song, you mention "winning mentality" and "fearlessness to take risks." How have these qualities contributed to your success in the music industry?
Both of those mentalities are essential to get anywhere in this industry. As you know, it's super saturated and doesn't do anybody any favors. As an artist you have to believe in yourself more than anybody else. There's gonna be a lot of twists along the way, but believe in yourself and know you're a winner.
In the music video for "Couldn't Be Me," you're wearing a mask that seems to reflect your edgier side and promote your clothing brand, Collective. Can you tell us more about your creative vision for integrating your fashion and music?
Yes, you hit it right on the head. I love how the mask provides anonymity and forces the viewer to judge someone based on their actions rather than appearance. As a fashion creator, I've always loved the juxtaposition and comparison of finer living and street culture. At first they seem like opposites, but the more that you understand them, you realize they are two sides of the same coin.
As an emerging rapper from New York City's thriving hip hop scene, what does it mean to you to be a part of this community? How do you think your music can positively impact and contribute to the hip hop culture in the city? Are there any particular issues or challenges within the community that you hope to address through your art?
I love being from New York City, the greatest city on earth. It feels good that we're back on top of the music game too. The culture always needs new characters and fresh stories. That's where I can stand out. I've lived a life in the streets similar to other artists, but I have l unique twists on every part. I feel that I can relate to new audiences as well as old. I don't really have any particular issues I want to address with my music but I do want to use the profits to be charitable with my community. I grew up playing a lot of AAU basketball and would love to financially support some of the programs that raised me.
Watch the music video below:
Listen to "Couldn't Be Me" here: