Thank you for sitting with us Arutyunyan Kristina! We are delighted to welcome you and EuroMusic to our studio for this interview.
Pop-Cutlr: Where is EuroMusic based exactly?
We are based in Moscow in Russia. More precisely we're on Leninsky Prospect str. house 1.
Tell us a bout "EuroMusic" what is it exactly?
EuroMusic is a production in Russia bringing a world of Armenian entertainment to the public. Comedy, film, music all in one. We plan on doing this every year and have some seen major success in a few categories such as "Tashi Show".
What is Tashi Show?
Tashi Show is a yearly show, already over 10 years, bringing the best Armenian musicians of the year, their releases and one major stage. A mix of fun, comedy, jokes, humour and the best music all on one stage.
Where does Tashi Show take place?
In Moscow, most of the time in Sochi.
Tell us about your musicians?
Only famous artists. Kidding! New and mainstream artists, but only megastars and only the most popular hits!
Tell us about your show hosts?
Of course, the most beloved and beautiful women of Armenia! But very notable show hosts are also Mark Saghatelyan and Armen Petrosyan. Mark speaks Armenian and Russian, he was born in 1971, cracks the best jokes all the time. Armen, also known as 1975 Mench. He was born in 1975 and also speaks Armenian and Russian. Armen is most famous for his appearance in the famous "Full House" TV Series.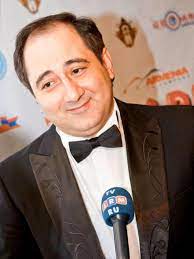 Tell us about glamour, makeup, who makes sure these artists look like stars?
Aga Kankanyan. Only Aga makes the magic happen. She worked with Sirusho, Christine Pepelyan, Hayko, Andre and a never ending list of Armenian musicians, stars, influencers. I have known Aga Kankanyan for several years, and we closely cooperate in many projects organized by our production center. Our first cooperation and acquaintance happened during one of the concerts in Yerevan in 2018. She is usually invited to Sochi every year to glam up our acts.
I can say with confidence that as a talented and professional master, she assesses the characteristics of each artist and, on their basis, creates a memorable individual image, which is one of the factors for a successful performance and career in general for any show business artist. Aga's attitude towards her activity is quite judicious and responsible, at the same time she is very sociable, simple and easy to communicate.
Can you talk to us about other notable positions who make this show unforgettable?
Of course, I apologize the ones I don't mention, but this event would not be possible if we did not have our screenwriters, dance-groups, ballet shows, other stylists, our admin group.
What is your favorite performance to date?
This one! Azg Im Parapandz, an amazing piece of work by the one and only Arno Babajanyan.
Who is the tech team producing the upcoming and very hyped project of this year?
Good question! This year's general producer/ author is Taron Poghosyan. The screenwriter: Armen Tadevosyan.
Thank you for this year's cast!: Ashot Ghazaryan, Roza Hovsepyan, David Sekhpeyan
It will be directed by Mark Saghatelyan
Remarkable hosts once again: Mark Saghatelyan and Armen Petrosyan
Myself as the director. We can't wait to see you!
How much are tickets?
Tickets starts from 500 ruble, available when you give us a call
Where should people reach EuroMusic for business opportunities or inquiries?
The best number is 8 495 517 50 57 or one of our management team here.
Can people follow you online?
Yes, we have a YouTube page here, with ore than 5 Million views already and over 10 000 susbcribers.